Air Conditioning Repair and Service Phoenix, Arizona
We've been helping homeowners and businesses with the best in quality air conditioning services for over 15 years.  Whether it's central AC, a ductwork or thermostat problem, or a ductless split-system we'll get everything running properly again — quickly and economically.  Yes, it's true that air conditioners actually do tend to break down most often on the hottest days, when they're working their hardest.  You can count on us for prompt AC repairs 24/7.  Our experts also perform maintenance services to keep breakdowns from happening in the first place. ASAP Plumbing provides affordable air conditioning repair and service to all Phoenix, Chandler, Gilbert, Arizona and surrounding areas. Schedule an appointment today.
Need A/C Repairs? We Can Help. 24/7 Response (480) 336-9235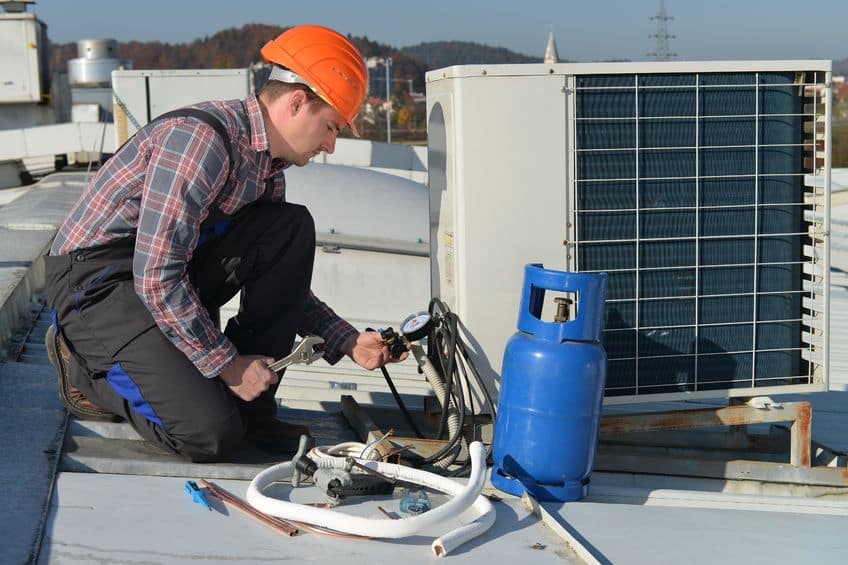 Emergency A/C Repairs
It's not simply a matter of not wanting to deal with desert temperatures.  Heat waves pose serious health risks, especially for the elderly.  Our highly-trained technicians are expert troubleshooters who will arrive promptly, well-stocked with repair parts and diagnostic equipment for lasting repairs on just about any make and model.
Air conditioning equipment can fail due to low refrigerant or lubricant levels as well as general wear and tear.  You might suddenly be without enough cooling, a system that won't turn on or stop running, or experience strange smells or noises.  You may be seeing excessive condensation, or even a coil froze over.  Regardless, our affordable AC services will soon have things back to normal.  Here are some of the more common air conditioner repairs.
Top-off refrigerants (Freon alternatives) after testing and fixing any leaks.
Replacing

coils
compressors
electrical and electronic components
indoor and outdoor fan motors
thermostats
TIP #1:  Before you assume you need A/C repair, check your system's air filter.  These should be replaced every few months, and a clogged filter reduces cooling capacity.  It can also cause the system to shut down, and can even lead to damage.
TIP #2:  Also check to see if a circuit breaker has tripped.  If it keeps tripping, there is indeed a problem.
TIP #3:  If you have a wireless thermostat, don't forget to check the batteries.
A/C Blowing Hot Air? We Can Help! (480) 336-9235
Preventive A/C Service
Reliability, higher efficiency, longer equipment lifetimes.  You buy a lot when you have regular air conditioning service.  Manufacturers recommend it at least once a year for residential and commercial installations, and the best time is in spring well in advance of summer desert heat.  You'll enjoy greater comfort and lower energy bills.
It's always the right time for AC services when you notice anything unusual, including a spike in your electricity bill without any unusual weather.  Catching something as simple as a rattle can avoid an expensive major breakdown and premature replacement.  Our inspection and maintenance services include dozens of checks and tests, including the following.
Visually Inspect

air filters
outdoor condenser coil
indoor evaporator coil
condensation drainage
compressor
ductwork
electrical connections

Measure and Test

exiting air temperature
returning air temperature
refrigerant pressures
compressor and fan motor amperage draw
thermostat

Perform manufacturer recommended lubrication and maintenance steps