Our Team
Owner
NICK
Nick founded ASAP Plumbing Services in the summer of 2014. As a master plumber with over 17 years in the industry, Nick has extensive experience in all aspects of plumbing, specializing in re-pipes, drains and sewer repair. His love for plumbing, passion to learn, and eagerness to excel quickly led to the rapid growth of ASAP, going from one truck to 15 trucks in just six years. Leading his team with his core values in quality workmanship and customer service, Nick takes pride in his technicians as they promote exceptional service. Even with an amazing team in place, Nick continues to be incredibly involved in the day-to-day activity of ASAP. He enjoys being in the office, running calls, and meeting customers when he can. Those closest to Nick know that he operates at a fast pace and juggles many hats. Plumbing is his world and excelling in solutions to perfect plumbing services is what keeps him motivated. When he has time to relax and unwind, Nick enjoys barbequing and watching movies with his family.
Supervisor
JON
Jon joined ASAP upon moving to Arizona from New England last year, bringing with him 20 years of industry experience. He has an extensive background in residential new construction plumbing/heating installation, general plumbing service & repair, and heating system design, service and installation. Jon's vast knowledge and attention to detail help to support our team in all areas of plumbing, contractor relations, customer support and job performance. In his spare time, Jon loves to grill out with his family and take in our Arizona sun.
Plumbing Technician
ANDREW
Andrew returned to ASAP in 2021 bringing with him 2.5 years of extensive plumbing experience. In addition to general plumbing services, Andrew specializes in sewers, camera inspections, and slab leaks. His hard-working nature, eagerness to help, charismatic personality, and honest character ensure a positive plumbing and customer service experience. In his spare time, Andrew enjoys barbequing with his family and spending time with his nieces and nephews.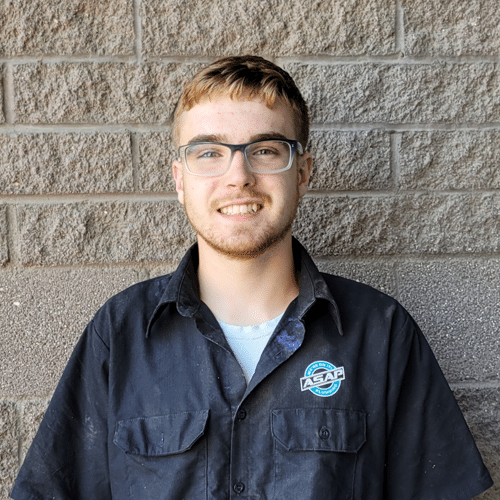 Plumbing Technician
BEN
Ben, originally from Illinois and now living in Arizona, has been plumbing for 3 years and loves the career path he chose. Having spent the majority of his plumbing career working on sewers and drains, Ben is highly experienced in replacing whole-home sewer systems and considers this to be the area of plumbing that makes him feel the most "in his element." In his free time, Ben likes to spend time with his family and travel out of town when possible.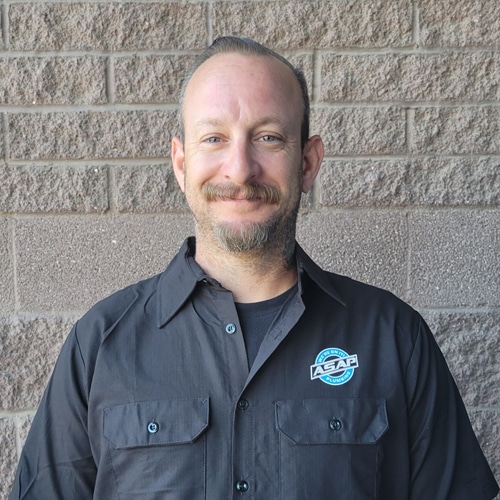 Plumbing Technician
CHET
Chet has been plumbing for 5 years. His favorite aspect of plumbing is finding the best solution to any given problem. Chet is skilled at gas installations, sewer repairs, and tankless water heaters. Chet starts every day with a morning workout at the gym. He loves his family, his Harley, and whitewater rafting.
Plumbing Technician
DAVID
David joined ASAP in 2019 and has over 5 years of plumbing experience. He specializes in trenchless sewer lining, re-pipes and water treatment systems. David is a team player and considers himself a perfectionist. He prides himself on getting his jobs done in a timely manner and ensuring quality in his work upon completion. David enjoys spending time with his family, playing softball and BBQing on the weekends.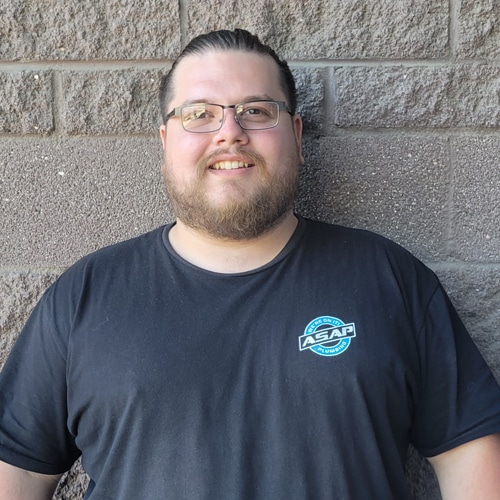 Warehouse Technician
GARRETT
While he is new to the plumbing industry, Garrett's previous experience with inventory and background in warehouse organization made him the perfect addition to our team. He has proven himself to be a quick learner though his eagerness and willingness to understand the many facets of the plumbing trade. When he is not tending to the warehouse, Garrett is delivering parts or equipment to our Plumbing Technicians out in the field. In his spare time, Garrett prefers his quiet apartment where he enjoys playing video games, writing music and playing the guitar.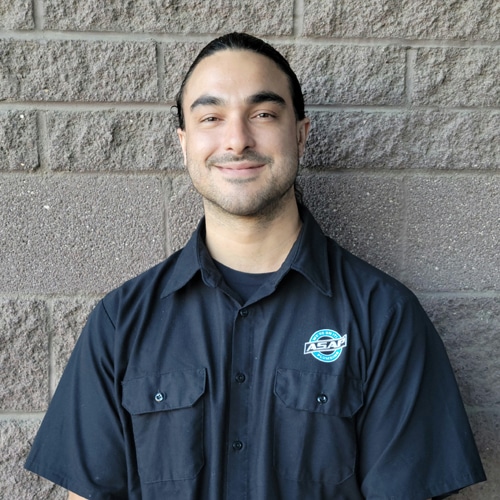 Plumbing Technician
JARROD
Jarrod, a transplant from San Diego, moved to Arizona in 2005. With a wide array of experience in residential plumbing, Jarrod specializes in sewer drains and trenchless pipe replacements. He strives for high productivity and efficiency in the workplace and his job sites. In his spare time, you can find Jarrod hiking Arizona's landscapes or tending to his reptile collection.
Re-Pipe Specialist
JORDAN
Jordan is one of ASAP's top Re-pipe Specialists. His work ethic, endurance and attention to detail make him highly relied upon and trusted by customers. His competence and skill level make him an invaluable member of our team and ensure our customers' homes are in the best of hands during re-pipe/re-route projects.
Plumbing Technician
LOGAN
Logan, an Arizona native, has been plumbing for 7 years. He joined ASAP in 2020 where he has proven himself to be focused on quality work, honesty and integrity when working with his customers. Logan is passionate about plumbing and feels like he is "living the dream" to be doing what he is doing. Logan specializes in general plumbing repairs, water heaters, garbage disposals and toilets. Logan enjoys hiking in his spare and is happy to provide for his family doing what he loves.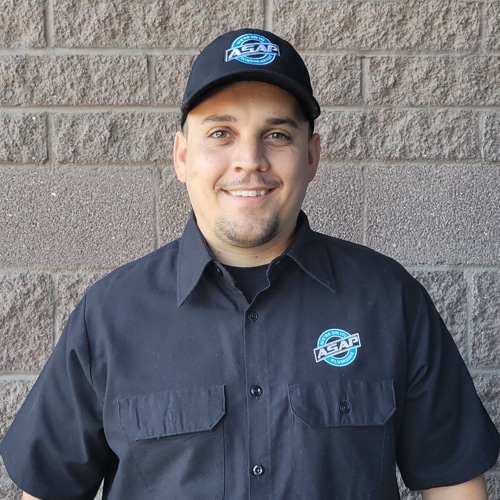 Plumbing Technician
NATHAN
Nathan has been with ASAP since 2017 and brings both plumbing and HVAC experience with him. Growing up, Nathan learned the trade of AC alongside his self-employed father. He then began servicing the valley in 2009 and later learned plumbing to become a dual technician in 2017. Nathan is skilled in re-pipes, sewer repairs and tankless water heaters. He is dedicated to his work and desires continued growth and knowledge in the industry to better serve his customers. Nathan has been in the Army National Guard Reserves for 9 years.
Re-Pipe Helper
NINA
Nina is one of our only female technicians out in the field. She assists our Re-pipe Specialists to ensure whole-house re-pipes are completed in a timely manner with optimum organization from start to finish. She brings a refreshing dynamic to the team and ensures that re-pipe jobs are carried out with efficiency.
Plumbing Technician
TERRENCE
Terrence transitioned into the plumbing trade industry a few years ago and joined ASAP in 2019. He has quickly proven himself with his confident personality, hardworking attitude and natural ability to understand plumbing. He is skilled in hydro-jetting, drain cleaning and trenchless water main replacement. He is a known jokester and keeps his team upbeat and laughing. Terrence loves his Labrador Retriever and takes him everywhere with him. You can catch the two of them at the water on his days off.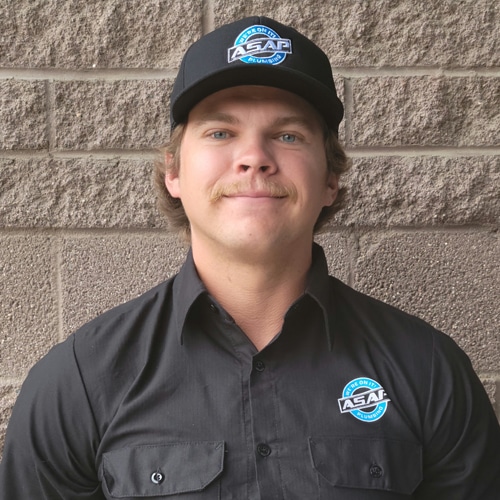 Plumbing Technician
TRAVIS
Travis, originally from Colorado, moved to Arizona 6 years ago. He's been in the plumbing industry and servicing residential homes for 5 years. As a newer addition to our team, Travis brings with him extensive knowledge in sewer lines, re-pipes, and new installs. He takes pride in his work and his easy-going, polite and kind demeanor ensures excellent customer service. When he's not working, Travis enjoys spending time in the outdoors and with his family.