Trenchless Water Line Repair & Replacement Phoenix, Arizona
Water lines can suffer damage as the result of high water pressure, freezing and thawing, tree roots and general deterioration due to age. If the water line to your home is damaged, you may notice a change in your water pressure or an increase in your utility bill. Your water may also become cloudy or have an unusual odor. You may even see standing water on your lawn. Any of these symptoms could indicate that your water line needs to be repaired or replaced.
Trenchless Water Line Pipe Replacement
If your water line is old, severely damaged or constructed of obsolete materials, it may have to be replaced instead of repaired. The good news is that we can replace your water line using our trenchless technology instead of having to dig up your lawn and shrubbery. Once we leave the job site, it will be hard to tell that we were even there. Not only is this a much neater operation, but it also can save you hundreds of dollars in landscape costs. Trenchless water line installation will also prevent damage to hard surfaces like driveways and sidewalks.
$258 OFF
Water Line Replacement
Our Team can Solve your Water Service Line Problem
•Residential Only
• We'll Come to Your House
• Review the Issues with Your Water Line
• Present you with Solutions on What to Do Next
• Lifetime Warranty
• Financing Options
•100% Customer Satisfaction on Repairs & Installs
•NO Service Call Fees
Schedule Service
*Restrictions Apply. Call for Details. Present Coupon at Time of Service. Not Available to Combine with Other Offers. Offer valid during regular business hours only ( 7am- 5pm )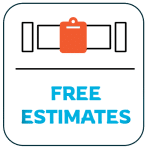 Fast, accurate and FREE in-home estimates


No surprises, you approve the price before we do the work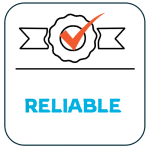 Licensed & insured 20+ years of repipe and plumbing experience

Whenever there is a problem with the main water lines of your property, you know it's a serious problem that may cost you thousand of dollars. There is going to be digging, repairing and re-landscaping involved, and often times you will need to replace all the damaged sprinkler pipes. The water service pipe also has a limited lifespan, which means you will have to go through the process again sometime in the future.Here at ASAP Plumbing we offer lifetime warranty on our trenchles water line replacement service.
Repairing Your Pipes Without Destroying Your Yard or Driveway!
So, what is the solution? Trenchless water line replacement has proven to be a cost-effective and reliable method for replacing, repairing, and installing water lines on various problems. It is a great method that doesn't involve digging up your property, since the plumber can easily fix the water pipe, and you won't have to worry about other repairs on your property. Conventional water main line repair methods are very invasive and always involve digging big trenches. That' why at ASAP Plumbing we offer trench-less water line replacement without digging huge ditches or saw cutting your driveway. While trenchless methods may involve some digging we have to access the old pipe.
Trenchless Replacement Eliminates Property Damage
One of the biggest plus points of trenchless water line replacement is that is doesn't involve extreme labor to replace damaged main water lines. If you have noticed a sudden increase in your water bill, you may have a problem with the main water line. The good news is that trenchless water line replacement allows homeowners to save time and money, and there is no damage inflicted in or around the property.
Trenchless water line replacement is a technique that allows entire water lines to be replaced easily and without damaging the property.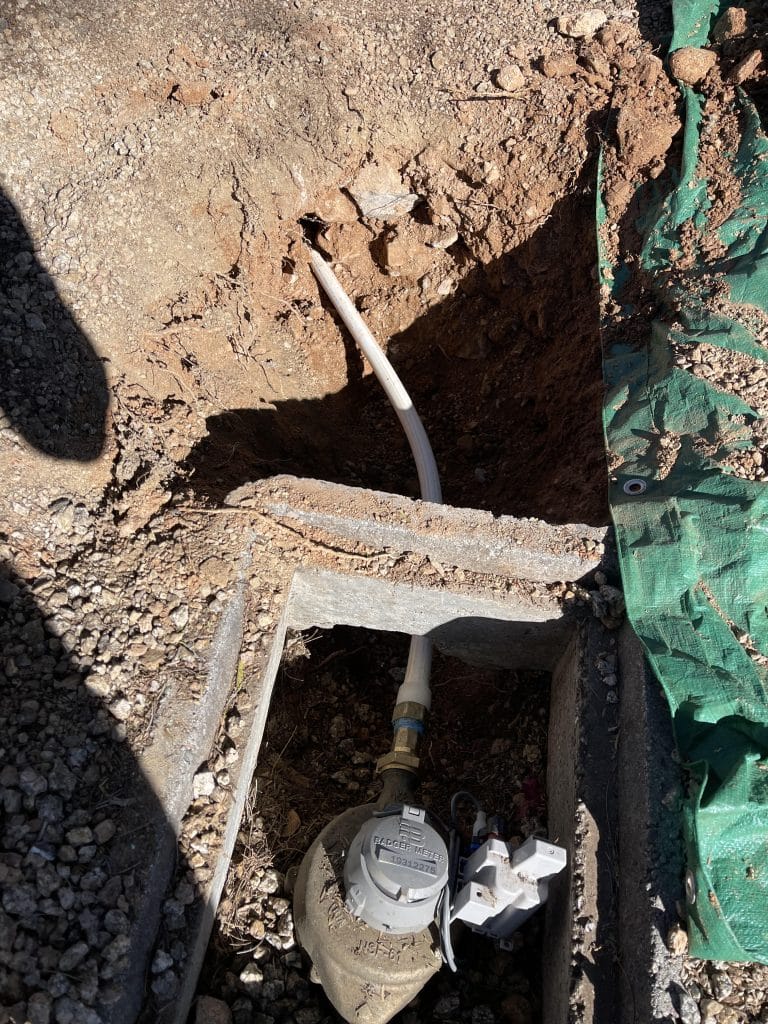 Water Line Problems? We Can Help. Call Now (480) 336-9235
BENEFITS
Affordable Replacement
Cleaner and Faster Installation
Longer Lasting
SYMPTOMS OF WATER LINE
Consistent water meter movement
Foundation movement
High water bill
Hot spot on flooring
Noise of running water in walls or fixtures
Water protrusion from slab or ground
How is Trenchless Water Line Replacement Done?
Trenchless water line replacement is done by creating two holes, one is created at the spot where the water line begins ( the water meter ) and the other where it ends ( the main riser at the house ) . The process involves using a bursting head (spear-shaped tool) that is attached to the opposite end of the replacement pipe and is fed through the damaged pipe with a cable. After this process is completed, the water line is connected from the access to the plumbing of the property, ensuring a fast and efficient water line replacement with no property damage.
Traditional vs. Trenchless
Traditional water line pipe repair is expensive, and comes with quick expiration dates, but trenchless water line repair is the exact opposite, since it is affordable, and prevents recurrence. The installation process of trenchless piping is the same, but the costs related with this process is less labor intensive, and therefore less expensive.
On top of that trenchless replacement pipes have a longer expiration date, which means that they will last for years before sustaining any damage. Another great aspect of trenchless water line replacement is that it only takes a few hours for installation in most cases .
Water Line Repairs
ASAP Plumbing offers water main line repair services to all of Maricopa County on a 24/7 basis. Our technicians are licensed and insured and are fully qualified to inspect your water line and to make any needed repairs. In some cases, repairs may be as simple as replacing a fitting. In other cases, they may be more extensive. Whatever the case, we will complete the job in a neat and timely fashion, plus we will guarantee our work.

Summary
If you notice any signs that your water line might need to be repaired or replaced, you should contact ASAP Plumbing immediately. We are available 24 hours a day and will be glad to send a technician to your home to determine the problem and to present you with a free estimate to repair it. Delaying needed repairs will only make problems worse, and you might end up having to replace a water line that could have been repaired.
Contact Us
"*" indicates required fields
CHECK OUT OUR FINANCING PLANS
Don't let cost hold you back , we offer a number of financing options to help you. For a limited time receive 0% interest & NO PAYMENTS for 24 months
Pre-Approval In Just Minutes
Soft Credit Pull
Up To 15 Years Payment Terms
Flexible Payment Options
Hassle-Free Plans
No Pre-Payment Penalty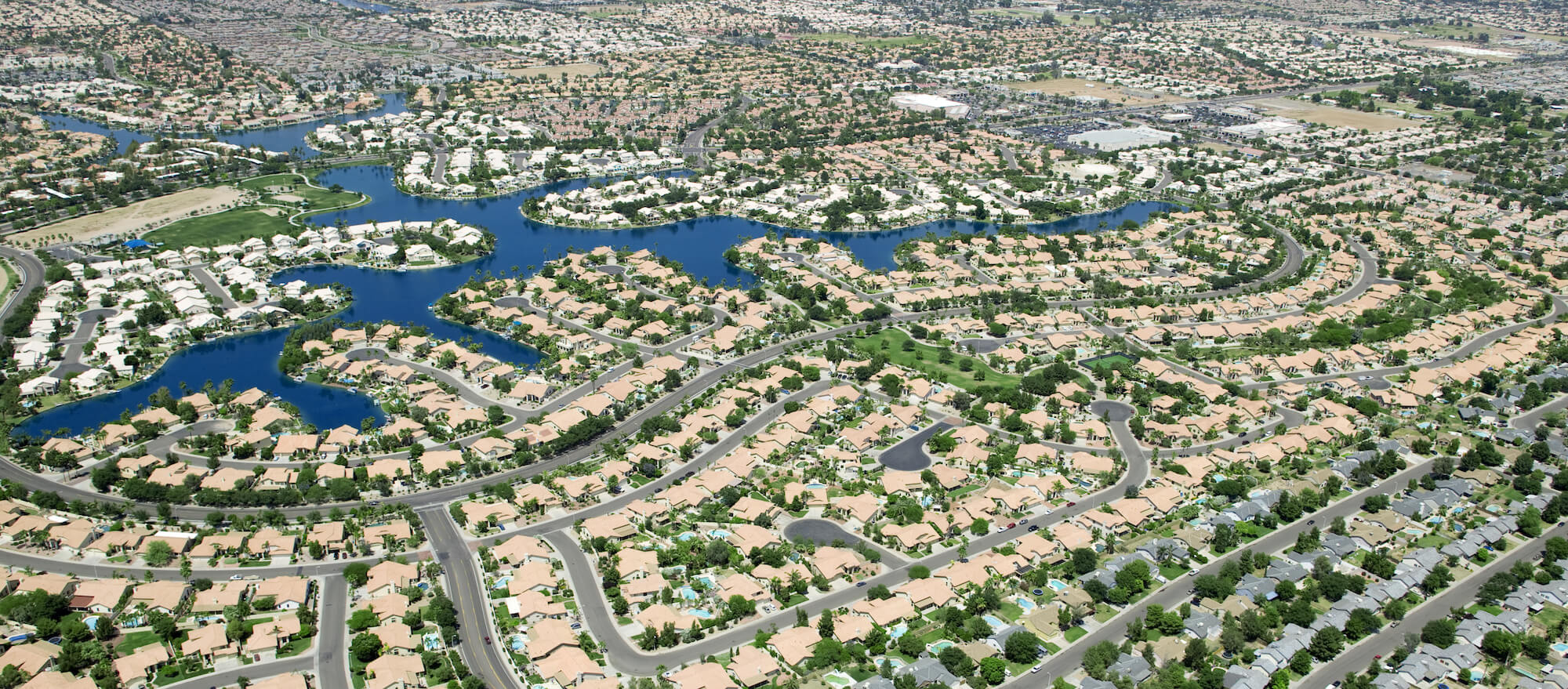 AREAS WE SERVICE Buckeye
Cave Creek
Carefree 
Fountain Hills 
Litchfield Park
Mesa
North Phoenix
Phoenix
Queen Creek 
Sun City 
Sun City West 
Sun Lakes 
Tolleson
Youngtown