Rapid, Efficient Emergency Plumbing Services – Available Immediately. Contact Us Today for Urgent Diagnosis and Swift Repairs of Your Plumbing Issues.
Locally Owned & Operated – Experience Honest, Upfront Pricing Without Surprises. Offering Customized Solutions Tailored to Your Needs.
ASAP Plumbing: Phoenix's Reliable 24/7 Emergency Plumbing Service
Plumbing emergencies don't adhere to a schedule; they can strike unexpectedly, often at the most inconvenient times. What qualifies as a plumbing emergency? Essentially, any issue that needs immediate attention to prevent escalation or that significantly disrupts your routine. When in doubt, it's better to err on the side of caution rather than downplay the severity.
ASAP Plumbing is at your service, offering cost-effective emergency plumbing solutions throughout Phoenix, Chandler, Gilbert, Arizona, and neighboring areas. Don't hesitate to reach out—our experienced team is ready to assist you, no matter the time or day.
We are open 24/7, catering to both residential and commercial clients across the valley, ensuring that help is always available when you need it most. Schedule an appointment with us today and experience swift and reliable service in your plumbing emergencies.

Why Choose ASAP Plumbing in Phoenix for Your Emergency Needs
Rapid Response: At ASAP Plumbing, the name says it all. They pride themselves on swift, efficient service, often arriving within the hour to address pressing plumbing issues.
Prevent Further Damage: Water damage isn't just about wet floors. It can jeopardize the structural integrity of your home. ASAP Plumbing takes a proactive approach to mitigate damage, potentially saving homeowners significant repair costs down the road.
24/7 Availability: Plumbing issues don't work 9 to 5, and neither does ASAP Plumbing. With round-the-clock service, they ensure that Phoenix residents are never left helpless amidst a plumbing catastrophe.
Expertise: Backed by years of experience and a team of certified professionals, ASAP Plumbing is equipped to tackle emergencies with precision and expertise.
Common Emergency Plumbing Issues Handled by ASAP Plumbing
Burst Pipes: Phoenix can have unexpected cold snaps, making pipes vulnerable. ASAP Plumbing can swiftly address and rectify such emergencies.
Sewer Backups: Any blockages or issues in the main sewer line leading to unpleasant sewage backups are expertly managed.
Water Heater Failures: ASAP Plumbing can diagnose and resolve water heater issues, ensuring residents don't have to endure cold showers.
Overflowing Toilets: Beyond the evident water damage, overflowing toilets pose sanitation risks that ASAP Plumbing addresses promptly.
Gas Leaks: Recognizing the peril posed by gas leaks, they are equipped to handle these potentially dangerous situations with urgency.
Why Phoenix Residents Trust ASAP Plumbing
Licensing & Insurance: ASAP Plumbing is fully licensed in Arizona and ensures that every project is covered by adequate insurance for peace of mind.
Experience: Their long-standing presence in Phoenix means they've seen and handled a broad spectrum of plumbing emergencies.
Local Knowledge: Understanding Phoenix's unique plumbing challenges, from its hard water to specific construction codes, makes ASAP Plumbing a top choice.
Transparent Pricing: Emergencies can be stressful, but with ASAP Plumbing, there are no pricing surprises. They maintain transparency in their fee structure and always provide an estimate before initiating work.
We've been serving Maricopa County residents since 2014
No surprises, you approve the price before we do the work
We are Licensed & Insured
20+ years of repipe and plumbing experience
Great Service, Professional & Courteous!

Get your free, personalized, no obligation quote.
ASAP Plumbing Pros are trained to diagnose and treat all types of pest problems. Because every home is different, they work with you to design a unique program for your situation.
"*" indicates required fields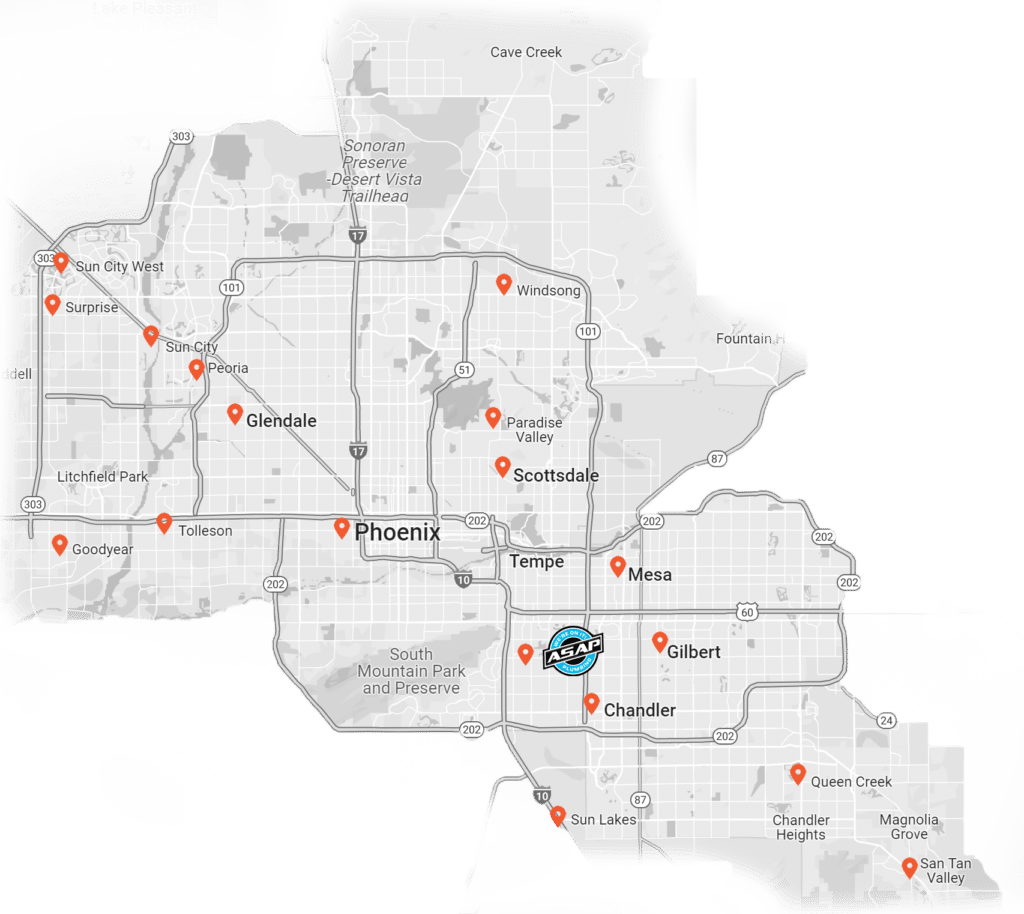 ASAP Plumbing: Your 24-Hour Emergency Plumbing Lifeline in Phoenix
It's a calm night, and suddenly, the unexpected happens: a plumbing disaster strikes. Such emergencies can be immensely disruptive and often occur at the most inconvenient times. In these challenging moments, ASAP Plumbing is your trusted partner, ensuring you don't have to navigate the crisis alone.
Defining Plumbing Emergencies:
A plumbing emergency isn't just about significant damages or catastrophic failures. It can be any situation that severely disrupts your daily routine or threatens to escalate if not promptly addressed. The key is not to undermine any plumbing irregularity; if it feels like an emergency to you, it is an emergency for us.
Immediate Assistance – Just a Call Away:
If you're unsure about the immediate steps to take during a plumbing crisis, don't fret. A simple call to our helpline will connect you to our experienced professionals who will guide you through preliminary actions to mitigate any further damage. With a commitment to rapid response, our team is geared to be on-site within 60 to 90 minutes, ensuring swift resolution.
Tackling the Most Common to the Most Complex:
While clogs, leaks, and water heater failures top the list of common plumbing emergencies, our expertise doesn't end there. We're equipped to handle a diverse range of plumbing challenges, ensuring your peace of mind.
Serving Phoenix and Beyond:
ASAP Plumbing is proud to offer its top-tier emergency plumbing services not just in Phoenix but also in Chandler, Gilbert, and the surrounding Arizona areas. Our affordable rates, coupled with our commitment to excellence, have made us the go-to choice for countless residents and businesses alike.
Always Open, Always Ready:
We understand that plumbing issues don't wait for an opportune moment. That's why ASAP Plumbing remains operational 24/7/365. Whether you're a homeowner facing a midnight leak or a commercial establishment grappling with a major plumbing setback, our doors are always open, and our team is always ready.
In the realm of plumbing, emergencies can be both disconcerting and disruptive. But with ASAP Plumbing by your side, you have a reliable ally ready to tackle the challenge head-on. Don't let plumbing issues throw
WHY WORK WITH US
LOCAL & RELIABLE
Your home deserves the best! Our commitment to our customers is to provide the highest level of service on every single call. Quality workmanship & premium parts is a promise we deliver on.

Complimentary, No-Pressure Estimates
Don't worry about costs for seeking advice or a second opinion. We offer completely free estimates, ensuring you can make your decisions without any financial obligation.

Clear and Transparent Pricing
Get a detailed & easy-to-understand breakdown of our services, empowering you to make well-informed choices about the services you require.

Skilled and Reliable Plumbing Professionals
Rely on our local technicians, each professionally trained, licensed, & insured, for consistent and trustworthy service. Enroll & Receive Up To 15% Saving On All Plumbing Repairs. Savings All Year Round.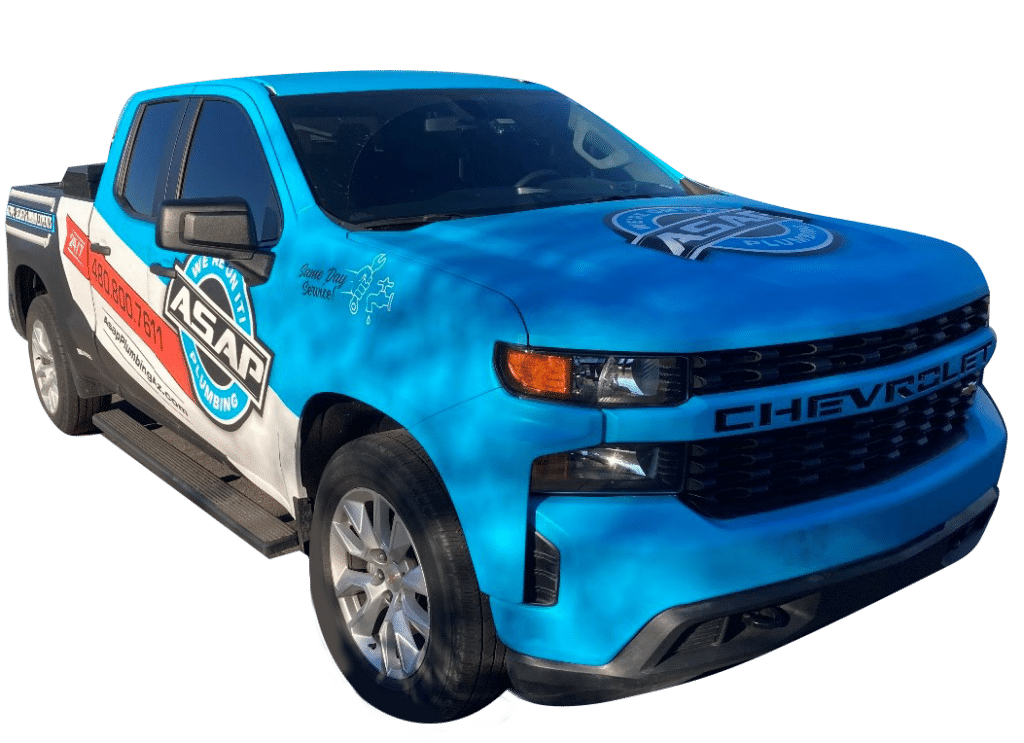 AROUND-THE-CLOCK EMERGENCY PLUMBING SUPPORT.
Anytime, Any Day – We're On It!
Ready for a Hassle-Free Plumbing Experience?
Don't wait for minor issues to become major headaches. Trust ASAP Plumbing for all your plumbing repairs and installations. Contact us today and experience unparalleled service quality. Call us 480.336.9235
Frequent Asked Questions
What constitutes a plumbing emergency?
A plumbing emergency is typically a situation that poses an immediate threat to health, property, or the environment. This includes severe leaks, burst pipes, sewage backups, no water supply, overflowing toilets, or any situation where water is causing immediate damage or health risks.
What should I do in case of a burst pipe?
Immediately shut off the main water valve to prevent further flooding. If the burst pipe is near electrical outlets or appliances, shut off the electricity at the breaker box. After securing the area, call an emergency plumber to repair the pipe. If necessary, start removing water to mitigate damage.
Can I handle small leaks myself or should I always call a plumber?
Small leaks, such as a dripping faucet, can often be handled with some basic DIY plumbing skills. However, if you're unsure of the cause or how to fix it, it's best to call a professional plumber. Ignoring small leaks or attempting repairs without the right knowledge can lead to bigger problems.


How can I find a reliable emergency plumber?
It's wise to research local plumbing services in advance and keep the contact details of a reputable emergency plumber handy. Look for plumbers with 24/7 emergency services, positive customer reviews, and the necessary licenses and insurance. Recommendations from friends or family can also be valuable in finding a reliable service.