Fast, Effective Laundry Drain Cleaning – Same Day. Call Us Now to Diagnose & Unblock Your Lines Promptly
Locally Owned & Operated – Experience Honest, Upfront Pricing Without Surprises. Offering Customized Solutions Tailored to Your Needs.
Clogged Laundry Plumbing Solutions by ASAP Plumbing
Don't Let Clogged Drains Delay Your Laundry Day! Laundry room plumbing issues can be more than just a minor inconvenience. Whether it's water failing to drain, or slow draining sinks caused by clogs, we've got you covered. Trust ASAP Plumbing for swift and effective solutions to all your clogged laundry plumbing problems. ASAP Plumbing provides affordable laundry drain cleaning services to all Tempe, Phoenix, Chandler, Gilbert Arizona and surrounding areas.

Why is Laundry Plumbing So Prone to Clogs?
Laundry room plumbing problems often occur as a result of laundry drain clogs. This problem may manifest itself in one of several ways. First, your clothes washer may still have water in it after it completes a cycle because it is unable to push the water through a clogged drain. Second, you may have water on your floor or walls. You may also notice unpleasant odors associated with the buildup of bacteria in clogged drain lines.
Lint and Fabric Threads: Over time, tiny fabric threads and lint get washed away and can accumulate, leading to blockages.
Detergent Residue: Not all detergents dissolve completely, and their residues can stick to the pipes, causing clogs over time.
Foreign Objects: Occasionally, small items like coins, buttons, or toys might find their way into the drains, causing obstructions.
Say Goodbye to Clogged Laundry Drains!
Don't let a clogged drain stand in the way of your laundry routine. Trust ASAP Plumbing for prompt, effective, and reliable laundry plumbing solutions. If you're in the Tempe, Phoenix, Chandler, or Gilbert Arizona areas and need a hand with your clogged laundry plumbing, don't hesitate. Contact us now!
Why Choose ASAP Plumbing for Your Laundry Drain Needs?
Quick Response: We understand the importance of timely services. That's why we offer same-day service to tackle those urgent clogs.
Transparent Pricing: No hidden fees. Get upfront pricing for all our services.
Professional Team: Our experienced team is equipped with the latest tools to handle any clogged drain issue.
Customer Satisfaction: Our primary goal is to ensure all our customers are satisfied with our services. We won't rest until your drains are clear!
We've been serving Maricopa County residents since 2014
No surprises, you approve the price before we do the work
We are Licensed & Insured
20+ years of repipe and plumbing experience
Great Service, Professional & Courteous!

Get your free, personalized, no obligation quote.
ASAP Plumbing Pros are trained to diagnose and treat all types of pest problems. Because every home is different, they work with you to design a unique program for your situation.
"*" indicates required fields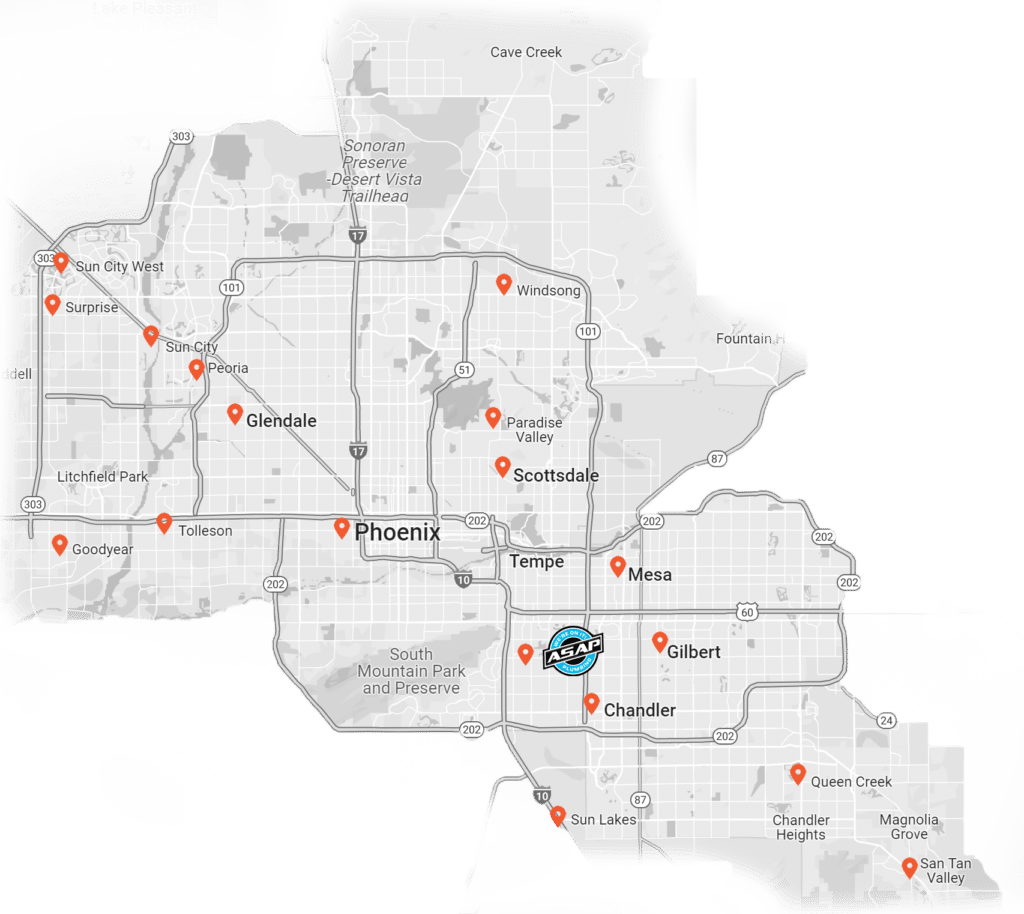 Navigating Clogged Laundry Drains: Causes, Signs, and Solutions
A smooth laundry routine is a must for every home. But, a clogged laundry drain can turn this simple routine into a messy, stress-inducing ordeal. Recognizing the signs early and understanding how to address them can prevent potential disasters.
Effective Solutions to Clear Clogged Laundry Drains
Manual Cleaning: Turn off and unplug the washing machine. Check for visible blockages in the drain hose and clear out any obstructions.
Natural Cleaners: A mixture of equal parts white vinegar and baking soda can be poured down the drain. Let it sit for 30 minutes followed by boiling water. This often breaks down minor clogs.
Plunger: Just as with a clogged sink or toilet, using a plunger can help dislodge clogs in your laundry drain.
Professional Drain Snake: For stubborn clogs, a drain snake or auger can be inserted into the drain to clear out obstructions.
Hydro Jetting: For severe blockages, especially due to lint or sludge buildup, hydro jetting can be an effective solution.
Seek Professional Help: If DIY methods fail, it's best to consult with a professional plumber to avoid further complications.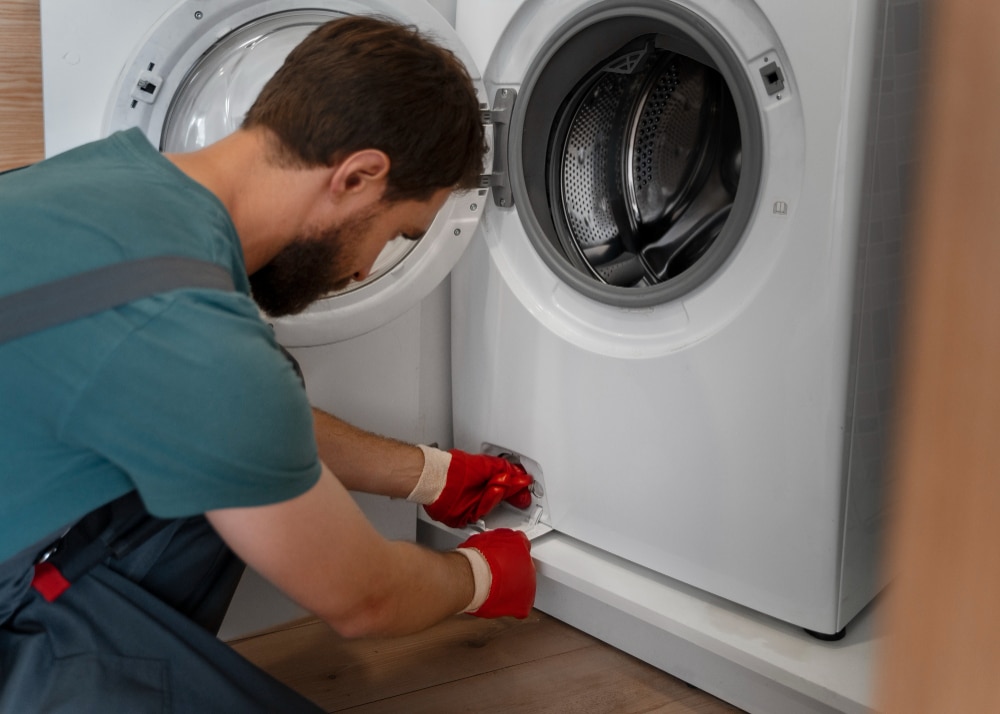 Washer Drain Hose Cleaning
If your clothes washer isn't draining properly, it could be because your washer drain hose is clogged. To check it, you will need to disconnect the hose from the back of your washing machine and remove the other end of the hose from the wall drain. Some people will be comfortable doing this while others would rather have a professional plumber do it for them. If your drain hose is clogged, you should be able to remove the clog and replace the hose.
WHY WORK WITH US
LOCAL & RELIABLE
Your home deserves the best! Our commitment to our customers is to provide the highest level of service on every single call. Quality workmanship & premium parts is a promise we deliver on.

Complimentary, No-Pressure Estimates
Don't worry about costs for seeking advice or a second opinion. We offer completely free estimates, ensuring you can make your decisions without any financial obligation.

Clear and Transparent Pricing
Get a detailed & easy-to-understand breakdown of our services, empowering you to make well-informed choices about the services you require.

Skilled and Reliable Plumbing Professionals
Rely on our local technicians, each professionally trained, licensed, & insured, for consistent and trustworthy service. Enroll & Receive Up To 15% Saving On All Plumbing Repairs. Savings All Year Round.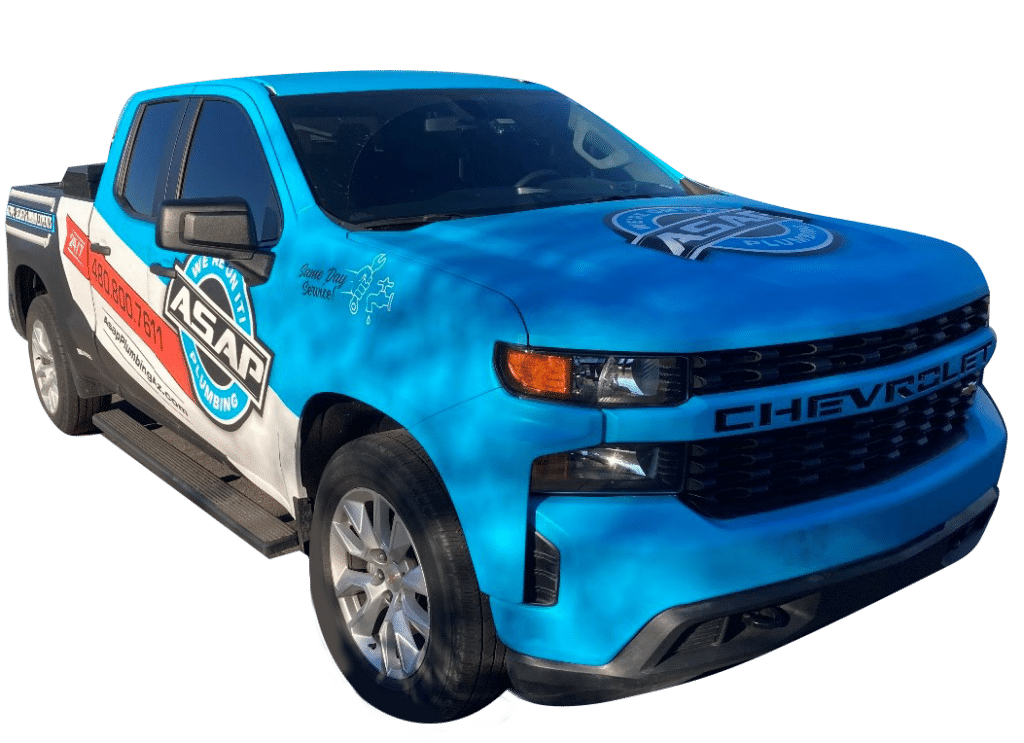 AROUND-THE-CLOCK EMERGENCY PLUMBING SUPPORT.
Anytime, Any Day – We're On It!
Ready for a Hassle-Free Plumbing Experience?
Don't wait for minor issues to become major headaches. Trust ASAP Plumbing for all your plumbing repairs and installations. Contact us today and experience unparalleled service quality. Call us 480.336.9235
Frequent Asked Questions
What causes clogs in laundry drains?
Clogs in laundry drains can be caused by a buildup of lint, fabric fibers, detergent residue, and even small items that get accidentally washed with clothes, like coins or hair. Over time, these materials can accumulate and obstruct the flow of wastewater.
How can I prevent clogs in my laundry drain?
To prevent clogs, regularly clean your washing machine's lint trap, if it has one. Consider installing a lint catcher on the end of the discharge hose to catch additional debris. Also, avoid overuse of detergents and fabric softeners, as these can build up in the pipes over time.
Can I use chemical drain cleaners for my laundry drain?**
While chemical drain cleaners can sometimes clear clogs, they should be used cautiously. They can corrode pipes over time and are harmful to the environment. For safer alternatives, consider using enzymatic cleaners or manually removing clogs with a plumbing snake. If clogs persist, it's best to call a professional.
What should I do if my laundry drain is frequently getting clogged?
Frequent clogs could indicate an underlying issue with your plumbing system. It's best to have a professional plumber inspect the laundry drain and possibly perform a camera inspection to diagnose the problem. They can identify and fix deeper issues such as pipe damage or obstructions further down the line. Regular professional maintenance can help prevent recurrent clogs.