LOCAL SAME DAY GREASE TRAP EXPERTS
Locally Owned & Operated – Experience Honest, Upfront Pricing Without Surprises. Offering Customized Solutions Tailored to Your Needs.
Professional Grease Trap Installation Services Valley Wide 
Welcome to ASAP Plumbing, where your kitchen's efficiency and compliance are our top priority. Operating in the bustling heart of Phoenix and extending our expertise to Chandler, Gilbert, Tempe, and surrounding areas, we specialize in offering comprehensive grease trap solutions to the commercial sector. Understanding the pivotal role of a well-functioning grease trap in your business, we're here to ensure your operations run seamlessly, backed by our lifetime warranty and the promise of free estimates.

Understanding Grease Traps
Grease traps, also known as grease interceptors, are critical components of any commercial kitchen's waste disposal system. Designed to trap fats, oils, and greases (FOG) before they enter the wastewater system, these devices help maintain clean pipes, prevent blockages, and ensure your business adheres to local health and safety regulations.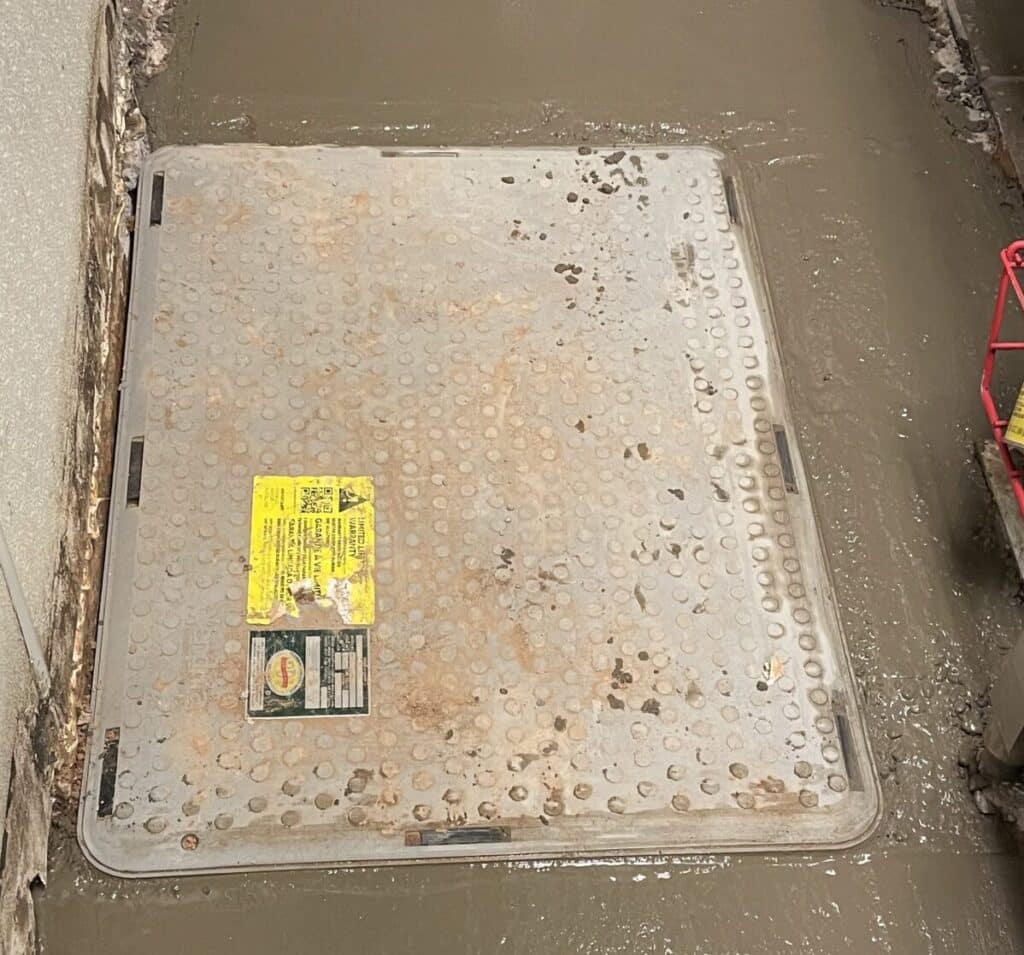 Why Are Grease Traps Important?
Without a properly functioning grease trap, FOG can accumulate in your plumbing system, leading to clogs, unpleasant odors, and potential health hazards. Moreover, failure to comply with FOG control can result in hefty fines and even closure of your establishment. Grease traps are not just a regulatory requirement; they're an investment in your business's longevity and reputation.
Why Choose ASAP Plumbing?
Lifetime Warranty: We stand by the quality of our work, offering a lifetime warranty on our services.
Free Estimates: Understanding your needs and budget is vital, which is why we provide free, no-obligation estimates.
Expertise: Our licensed plumbers are not only skilled but also knowledgeable about the latest industry standards and local regulations.
Valley-Wide Service: Our services span across Phoenix, Chandler, Gilbert, Tempe, and the surrounding areas, ensuring timely and reliable assistance.
Our Grease Trap Services
ASAP Plumbing provides a full suite of grease trap services tailored to your business needs:
Installation: We offer precise installation services for both indoor and outdoor grease traps. Our experts will assess your kitchen's requirements, helping you choose the right size and type to ensure maximum efficiency.
Maintenance: Regular maintenance is crucial for the longevity of your grease trap. We provide thorough cleaning, inspection, and maintenance services to prevent blockages and ensure your system remains compliant with local regulations.
Replacement: If your current system is outdated or no longer meets the demands of your kitchen, our team can seamlessly handle the replacement process, minimizing downtime and ensuring a smooth transition.
Emergency Services: In the event of an unexpected grease trap failure or blockage, our emergency services are available around the clock to get your kitchen back up and running.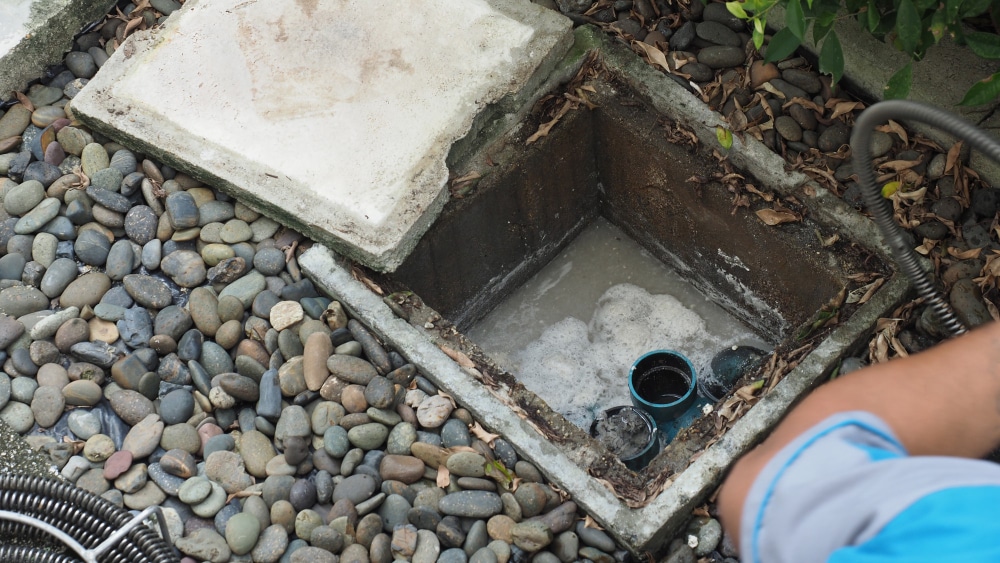 The Crucial Role of Grease Traps
A grease trap is more than just a plumbing accessory; it's a vital defense mechanism for your kitchen. Its primary function is to intercept fats, oils, and greases (FOG) present in kitchen wastewater before they enter your plumbing system and eventually, the sanitary sewer lines. This interception is crucial because if left unchecked, these substances can solidify and accumulate, leading to severe blockages.
Consequences of Inadequate Grease Management
Neglecting the condition of your grease trap can have dire repercussions. Over time, an overwhelmed or poorly maintained grease trap will fail to prevent FOG from clogging your pipes. This can result in unsightly and malodorous backups, creating an unpleasant environment for both your staff and patrons. Such incidents not only disrupt your kitchen's functionality but also pose a significant threat to your establishment's hygiene standards and professional image.
We've been serving Maricopa County residents since 2014
No surprises, you approve the price before we do the work
We are Licensed & Insured
20+ years of repipe and plumbing experience
Great Service, Professional & Courteous!

Get your free, personalized, no obligation quote.
ASAP Plumbing Pros are trained to diagnose and treat all types of pest problems. Because every home is different, they work with you to design a unique program for your situation.
"*" indicates required fields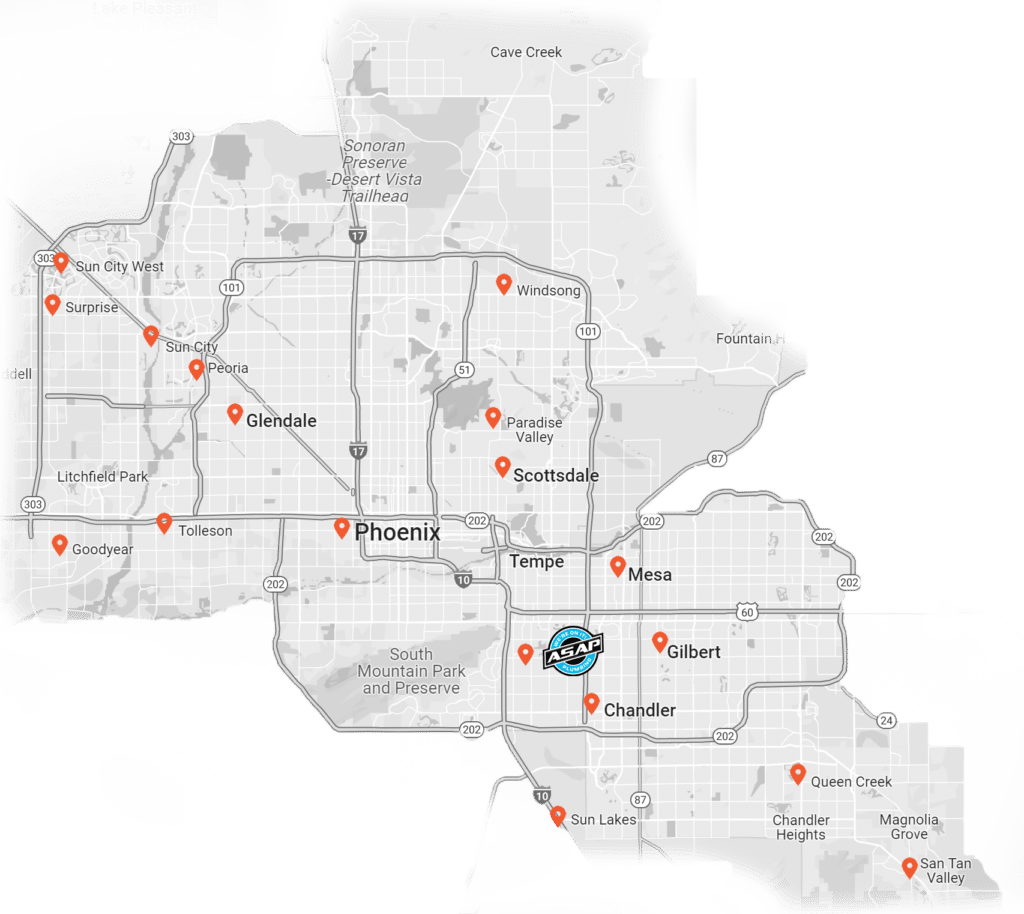 Grease Trap Installation: Ensuring Efficiency and Compliance with ASAP Plumbing
In the bustling environment of commercial kitchens, the importance of a properly functioning grease trap cannot be overstressed. It is not only a guardian of your plumbing system but also a compliance measure for health and safety regulations. At ASAP Plumbing, we understand that the right type, size, and installation of a grease trap are pivotal to avoiding backups, excessive pump-outs, foul odors, and potential health code violations. Whether you're looking for a new installation, replacing a damaged unit, or upgrading to a larger capacity, our experts are equipped to manage all your grease trap needs.
Determining the Right Size: The Key to Effective Grease Management
Selecting the correct size of a grease trap is crucial for optimal performance. Here's a simplified way to estimate the required gallons per minute (gpm) flow rate, which will guide you in choosing the right size:
Sink-Based Calculation:
Multiply the length, width, and depth of your sink in inches to get the cubic inches.
Divide the total cubic inches by 230 to convert to a gpm flow rate.
For multiple sinks, calculate 100% of the largest, 50% of the smallest, and 25% of all others, then sum these up.
Restaurant Seating Calculation:
Multiply the number of seats by 1 to 2 gallons per seat.
Multiply this by the number of hours of operation to estimate the gpm.
Note: Special considerations apply to spray hoods, and it's crucial not to connect dishwashers and garbage disposals into lines with a grease trap to prevent overwhelming the system with food debris.
---
Why Choose ASAP Plumbing for Your Grease Trap Installation?
Expertise: As a fully licensed and insured plumbing company, we specialize in commercial plumbing needs, particularly grease trap services.
Availability: Our team is ready to assist you, whether it's a scheduled appointment or emergency repairs, any time of the day or night.
Transparency: We assess the problem, explain the issue and intended resolution, and provide you with an accurate upfront price that won't change.
Installation Options: We can install traps as large as 50 gallons indoors for easy access, though this may necessitate more frequent maintenance. Our experienced contractors ensure seamless coordination and precision in installation.
Indoor vs. Outdoor Installation
Deciding between an indoor and outdoor installation involves weighing convenience against maintenance needs. Indoor units, often placed near or under a sink, offer easier access, making installation less expensive. However, smaller units require more frequent cleaning and maintenance, which can be more costly over time. An experienced plumbing contractor like ASAP Plumbing can guide you in making the best choice for your specific needs and ensure flawless installation.
Get in Touch with ASAP Plumbing
Don't let grease trap concerns interrupt your business operations. Contact ASAP Plumbing for expert grease trap installation and maintenance services. Trust us to keep your kitchen running smoothly, efficiently, and in full compliance with health and safety standards. Whether you're looking for installation, maintenance, or emergency services, our team is ready to ensure your kitchen remains clean, compliant, and operational. Call us today for your free estimate and experience the peace of mind that comes with professional grease trap management.
WHY WORK WITH US
LOCAL & RELIABLE
Your home deserves the best! Our commitment to our customers is to provide the highest level of service on every single call. Quality workmanship & premium parts is a promise we deliver on.

Complimentary, No-Pressure Estimates
Don't worry about costs for seeking advice or a second opinion. We offer completely free estimates, ensuring you can make your decisions without any financial obligation.

Clear and Transparent Pricing
Get a detailed & easy-to-understand breakdown of our services, empowering you to make well-informed choices about the services you require.

Skilled and Reliable Plumbing Professionals
Rely on our local technicians, each professionally trained, licensed, & insured, for consistent and trustworthy service. Enroll & Receive Up To 15% Saving On All Plumbing Repairs. Savings All Year Round.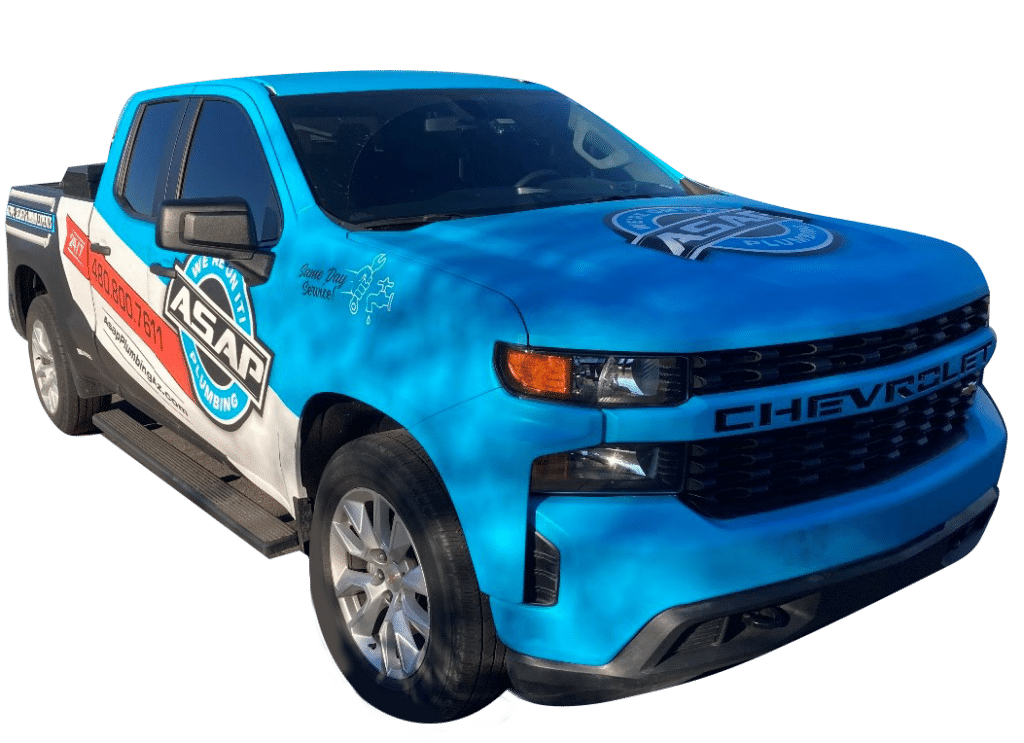 AROUND-THE-CLOCK EMERGENCY PLUMBING SUPPORT.
Anytime, Any Day – We're On It!
Ready for a Hassle-Free Plumbing Experience?
Don't wait for minor issues to become major headaches. Trust ASAP Plumbing for all your plumbing repairs and installations. Contact us today and experience unparalleled service quality. Call us 480.336.9235
Frequent Asked Questions
What is a grease trap and why is it necessary?
A grease trap is a plumbing device designed to intercept most greases and solids before they enter a wastewater disposal system. It's necessary because grease can accumulate in plumbing systems and cause blockages, leading to overflows and sewage backups. This is especially important for commercial establishments like restaurants that deal with large volumes of greasy water.
How does a grease trap work?
Grease traps work on the principle that fats, oils, and greases (FOG) are lighter than water and will float to the top of the trap. When wastewater enters the trap, it's slowed down, allowing time for the FOG to separate and rise. Solids settle at the bottom, and the cleaner water exits the trap to the sewer line.
How often should a grease trap be cleaned or maintained?
The frequency of cleaning depends on the size of the trap and the amount of FOG a facility produces. Typically, grease traps should be cleaned when the combined FOG and solids accumulation reaches 25% of the liquid depth of the trap. This can range from weekly to monthly for high-volume restaurants or less often for smaller operations.
Can I clean my grease trap myself, or do I need a professional?
While it's possible for a business owner or employee to clean a grease trap, it's often a messy and unpleasant task. Additionally, improper cleaning or disposal of the waste can lead to further plumbing issues or environmental fines. Many businesses opt to hire professional grease trap cleaning services to ensure proper maintenance and compliance with local regulations.