Professional Water Heater Services – Repair or Installation on the Same Day. Get in Touch Today for Prompt Evaluation and Skilled Assistance with Your Water Heater.
Locally Owned & Operated – Experience Honest, Upfront Pricing Without Surprises. Offering Customized Solutions Tailored to Your Needs.
Expert Water Heater Repair & Replacement in Phoenix, AZ
Fed up with the frustration of frequently running out of hot water? It's time to leave those chilly showers behind and step into the future with tankless water heaters. Long established in European and Japanese homes, this innovative technology has been making waves in Phoenix and nearby areas since the late 1990s, and with good reason. Tankless water heaters offer a continuous supply of hot water, marking a significant upgrade from traditional water heating methods. Their increasing popularity in Phoenix is a testament to their efficiency, convenience, and the enhanced lifestyle they offer. Say hello to endless hot water and a more comfortable home with our expert tankless water heater services and installation.

Comprehensive Water Heater Solutions
Our services encompass everything from troubleshooting minor issues to full-scale replacements. Whether you have a traditional gas or electric water heater or have embraced the efficiency of tankless water heaters, our skilled technicians are equipped to handle them all.
Comprehensive Water Heater Solutions: Our services encompass everything from troubleshooting minor issues to full-scale replacements. Whether you have a traditional gas or electric water heater or have embraced the efficiency of tankless water heaters, our skilled technicians are equipped to handle them all.
24/7 Fast Response and Same-Day Services: We know that water heater problems don't wait for a convenient time. That's why we're on call 24/7, ready to deliver fast response and same-day services. Say goodbye to cold showers, greasy dishes, and interrupted business operations — ASAP Plumbing is here to restore warmth and comfort to your space.
Water Heater Repair: Noticing rumbling noises, water leaks, or just not getting enough hot water? Our experienced team can diagnose and repair a wide range of water heater issues, extending the life of your unit and ensuring consistent hot water supply.
Water Heater Replacement: When repairs are no longer cost-effective or your unit has reached the end of its lifespan, we offer expert water heater replacement services. Our team will guide you through selecting the best water heater for your needs, ensuring energy efficiency and reliable performance.
Preventative Maintenance: Regular maintenance is key to prolonging the life of your water heater and preventing unexpected breakdowns. Our comprehensive maintenance services include inspections, cleaning, and component checks to keep your water heater running smoothly.
Trust ASAP Plumbing for Your Water Heater Needs
At ASAP Plumbing, we're committed to delivering affordable, efficient, and reliable water heater services. Our licensed and insured technicians are dedicated to ensuring your comfort and satisfaction. Serving the greater Phoenix area and beyond, we're just a call away. Schedule your water heater service appointment today and experience the ASAP Plumbing difference!
Types of Water Heaters
Gas Water Heaters: Known for their efficiency and speedy recovery times, gas water heaters are a popular choice. Our team is well-versed in troubleshooting and repairing all gas water heater models.
Electric Water Heaters: An electric water heater can be ideal for those seeking simplicity and safety. Our technicians are adept at resolving any electrical issues and ensuring your unit operates smoothly.
Common Water Heater Problems We Address:
Insufficient Hot Water: The dreaded cold shower can often be attributed to a malfunctioning heating element or an incorrect size for your household needs.
Leaks: Whether it's from the tank, valves, or connections, we're skilled in identifying the source and applying a lasting fix.
Discolored or Smelly Water: Indicators of bacterial growth or rust within the tank, we can flush out the system and replace compromised components.
Odd Sounds: Rumbling or popping noises are often the telltale signs of sediment build-up, which our maintenance services can address.
Gas vs. Electric Water Heaters – Repair Focus Points:
Gas Water Heaters: Issues can arise from the thermo-couple, pilot light, gas control valve, or burner. We can adjust and replace these components for seamless operation.
Electric Water Heaters: A common failure is a burnt-out heating element, which we can swiftly replace to restore your hot water supply.
We've been serving Maricopa County residents since 2014
No surprises, you approve the price before we do the work
We are Licensed & Insured
20+ years of repipe and plumbing experience
Great Service, Professional & Courteous!

Get your free, personalized, no obligation quote.
Get expert advise or a second opinion without the financial worry. We provide completely free estimates, so you can make your decisions confidently and without obligation.
"*" indicates required fields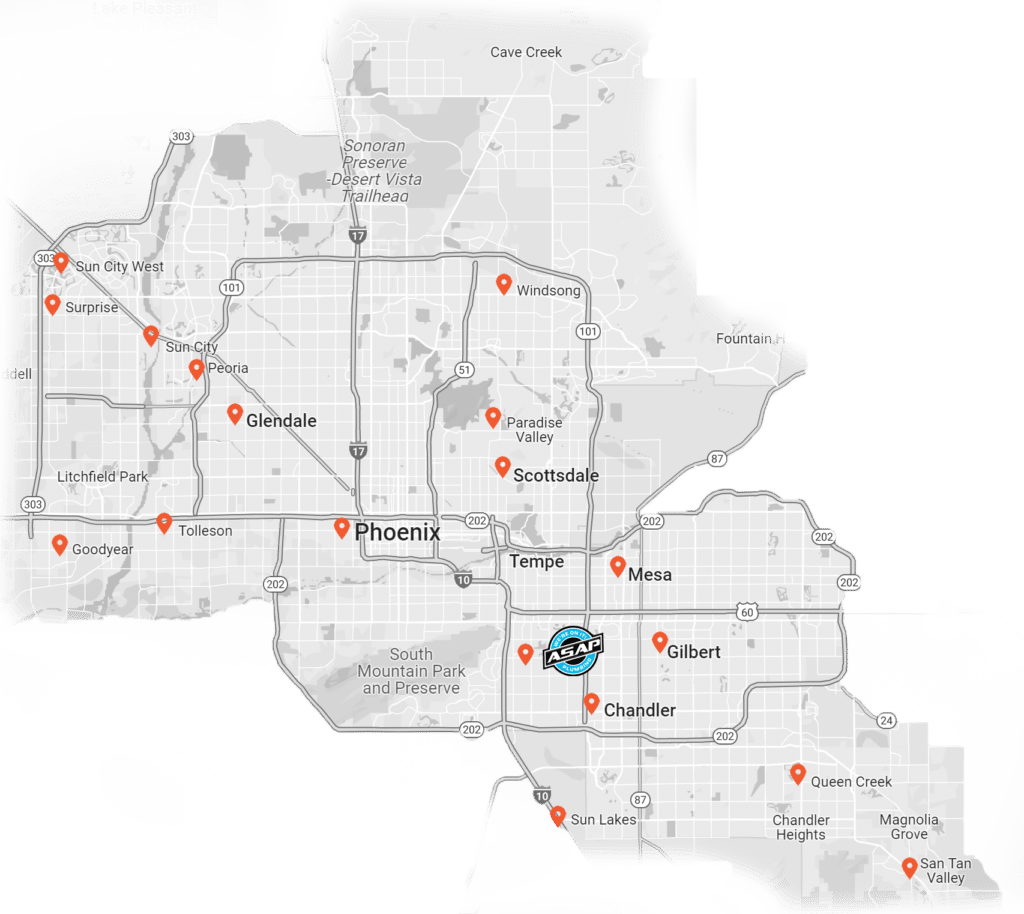 Our Process:
Assessment: We start with a thorough examination of your current water heater, identifying the root cause of any issues or determining if a replacement is more cost-effective.
Expert Recommendation: Our skilled technicians will guide you through the best options, whether repair or replacement, based on your specific needs and budget.
Efficient Installation: Should a replacement be necessary, our team works swiftly and effectively to install your new water heater, minimizing disruption to your routine.
Post-Service Support: After installation, we remain at your service for any follow-up queries or concerns. Your satisfaction is our top priority.
Why Choose ASAP Plumbing?
Lifetime Warranty: We stand by the quality of our work. Our water heater installations come with a lifetime warranty, giving you peace of mind and assurance in the longevity of our service.
Fast and Friendly Service: We know that water heater issues can't wait. That's why we offer same-day service to address your hot water needs promptly, all with a smile!
Free Estimates Valley Wide: Not sure what's wrong with your water heater? We provide free estimates across the Phoenix Valley, ensuring you know exactly what your repair or replacement entails.
Competitive Pricing: High-quality service shouldn't break the bank. We offer competitive pricing to ensure you receive the best value for your water heater needs.
24/7 Availability: Hot water emergencies don't stick to a 9-5 schedule, and neither do we. Our team is ready to serve you around the clock, ensuring you're never left in the cold.
Understanding Gas & Electric Water Heaters: Lifespan, Maintenance, and More
Welcome to our informative plumbing guide, where we dive deep into the world of gas and electric water heaters. These appliances are vital in any household or business, providing the comfort and convenience of hot water. Understanding their differences, lifespan, and maintenance requirements can help you make informed decisions and ensure their efficient operation.
Gas vs. Electric Water Heaters: A Comparison
Gas Water Heaters
Gas water heaters are known for their rapid heating capabilities and efficiency. They use natural gas or propane to heat the water, making them typically more cost-effective to operate than their electric counterparts, especially in regions with high electricity rates.
Advantages:
Faster recovery rate
Lower operational costs
Effective during power outages (for models without electronic ignition)
Disadvantages:
Higher initial installation cost (due to venting requirements)
Regular maintenance is crucial for safety
Potential for gas leaks
---
Electric Water Heaters
Electric water heaters are popular due to their simplicity and safety. They rely on electric resistance coils to heat the water and are generally easier and less expensive to install, as they don't require gas lines or venting systems.
Advantages:
Lower initial installation cost
No risk of gas leaks
Generally safer and more straightforward to maintain
Disadvantages:
Slower recovery rate
Higher operational costs in areas with high electricity rates
Not operational during power outages
Lifespan Expectations
The average lifespan of both gas and electric water heaters is around 8-12 years, with some models lasting up to 15 years or more with proper maintenance. Factors that affect the lifespan include:
Quality of the unit
Hardness of the water
Frequency of maintenance
Operating conditions
Maintenance Essentials
Regular maintenance is key to extending the lifespan and ensuring the efficient operation of your water heater. Here are some crucial maintenance tasks:
For Both Gas and Electric Water Heaters:
Annual Flushing: Sediment build-up can reduce efficiency and damage the tank. Draining and flushing the tank annually can prevent these issues.
Temperature-Pressure Relief Valve Check: This safety feature prevents excessive pressure build-up. Test it yearly to ensure proper function.
Anode Rod Inspection: The anode rod protects the tank from corrosion. Inspect it every 2-3 years and replace it if more than 6 inches of core wire is exposed.
For Gas Water Heaters:
Venting System Check: Ensure the venting system is clear of obstructions for proper exhaust.
Gas Line Inspection: Check for leaks or damage to the gas line annually.
Burner Inspection and Cleaning: A clean burner ensures efficient operation. Check and clean it periodically, especially if you notice a yellow flame instead of blue.
For Gas Water Heaters:
Heating Element Check: Inspect the heating elements for signs of wear or damage. Replace them if necessary.
Thermostat Inspection: Ensure the thermostat is functioning correctly and set to an appropriate temperature (usually around 120-130°F).
Remember, regular maintenance not only extends the lifespan of your water heater but also ensures it operates safely and efficiently. If you're unsure about performing these tasks yourself, it's always best to contact a professional plumber for assistance.
In conclusion, whether you choose a gas or electric water heater, understanding their characteristics, lifespan, and maintenance needs will help you enjoy a steady supply of hot water for years to come. For professional installation, maintenance, or advice, don't hesitate to reach out to your local plumbing experts.
Don't let water heater problems disrupt your comfort. Extend the life of your water heater with our manufacturer-recommended maintenance services.
Contact ASAP Plumbing for efficient, expert, service today!
Time for a Replacement?
Water heaters have a lifespan, and when the time comes, you can rely on us for informed advice and professional installation. Whether it's tank, tankless, or heat-pump technology, we'll guide you through the selection process, ensuring the right fit for your needs and budget.
WHY WORK WITH US
LOCAL & RELIABLE
Your home deserves the best! Our commitment to our customers is to provide the highest level of service on every single call. Quality workmanship & premium parts is a promise we deliver on.

Complimentary, No-Pressure Estimates
Don't worry about costs for seeking advice or a second opinion. We offer completely free estimates, ensuring you can make your decisions without any financial obligation.

Clear and Transparent Pricing
Get a detailed & easy-to-understand breakdown of our services, empowering you to make well-informed choices about the services you require.

Skilled and Reliable Plumbing Professionals
Rely on our local technicians, each professionally trained, licensed, & insured, for consistent and trustworthy service. Enroll & Receive Up To 15% Saving On All Plumbing Repairs. Savings All Year Round.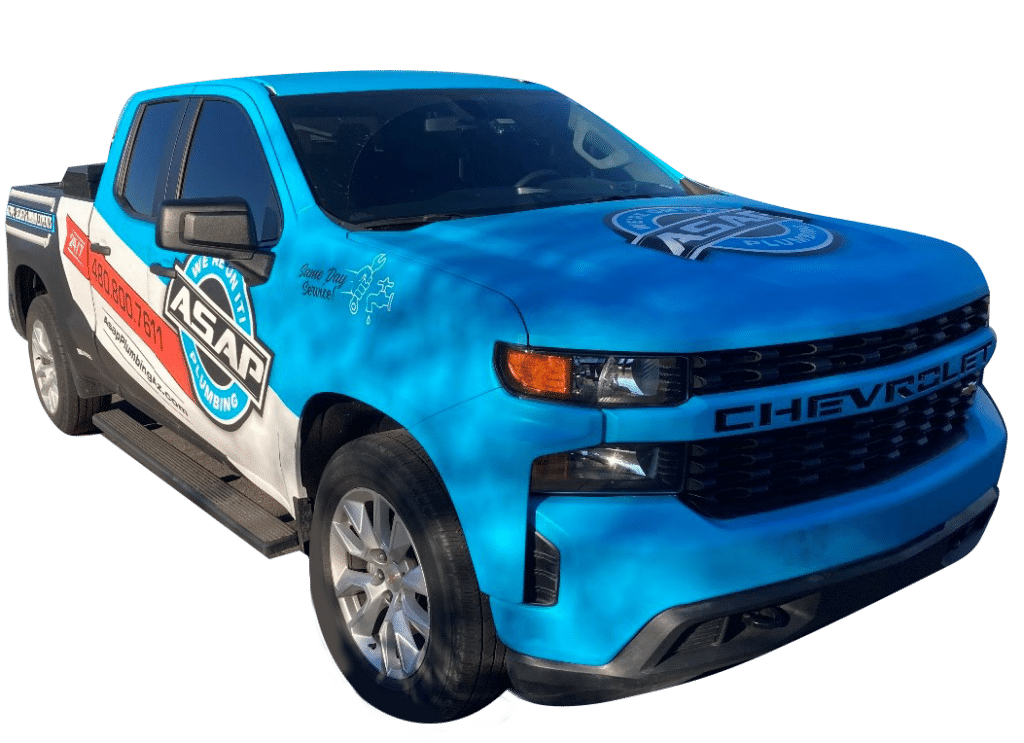 AROUND-THE-CLOCK EMERGENCY PLUMBING SUPPORT.
Anytime, Any Day – We're On It!
Ready for a Hassle-Free Plumbing Experience?
Don't wait for minor issues to become major headaches. Trust ASAP Plumbing for all your plumbing repairs and installations. Contact us today and experience unparalleled service quality. Call us 480.336.9235
Frequent Asked Questions
How do I know if my water heater needs repair or replacement?
Signs that your water heater may need attention include inconsistent water temperatures, strange noises coming from the tank, leaks, discolored water, or if it's taking longer than usual to heat the water. If your water heater is more than 10 years old, it may also be less efficient and more prone to problems.
What are common issues that require water heater repair?
Common water heater issues that may require repair include malfunctioning heating elements, faulty thermostats, sediment buildup in the tank, corroded anode rods, or leaky valves. Many of these problems can be fixed by a professional without the need for a full replacement.
How long does a typical water heater last, and when should I consider replacing it?
The lifespan of a water heater can vary depending on the type (tank vs. tankless), maintenance, and water quality, but typically, tank water heaters last about 8-12 years, while tankless models can last up to 20 years. Consider replacing your water heater if it's near the end of its expected lifespan and is experiencing frequent issues or inefficiencies.
What factors should I consider when choosing a new water heater?
When choosing a new water heater, consider factors like energy efficiency, fuel type (gas, electric, solar, etc.), tank size or capacity (for tank models), the physical space available for installation, and your household's hot water needs. It's also wise to compare the long-term operational costs of different models.