Need A Plumber In Avondale? We Can Help! Call Today. (480) 336-9235
AVONDALE, ARIZONA PLUMBING SERVICES
Need a plumber you can count on for your Avondale, Arizona home or business? Our residential and commercial plumbers are ready and can be there within 60 to 90 minutes 24 hours a day 7 days a week. After an expert diagnosis, you'll get upfront pricing before we begin any repair, installation, or replacement work. With licensed master plumbers we can handle just about anything from a garbage disposal repair to replacing gas and sewer lines.
PLUMBING REPAIR, INSTALLATION AND MORE
We're a full-service general plumbing contractor, ready to meet all your plumbing needs. Our additional services include the following repair, replacement, and installation services.
We offer the full range of residential and commercial plumbing services, including the following.
Frozen pipe thawing
Repairs and installation

Backflow preventers
Garbage disposals
Showers and tubs
Sinks and faucets
Toilets
Sump pumps
Urinals and other commercial fixtures
Water softeners

Gas line repairs, upgrades, and new installs
Water line repair and pipe replacement, including copper repiping
Contact Us
"*" indicates required fields
Sewer or Drain Problems? We Can Help! Call Today. (480) 336-9235
SERVICES
AVONDALE DRAIN CLEANING SERVICES
When you think of plumbers the first thing you probably think of is drain and sewer cleaning. So of course we do that, typically with the usual power cabling (drain snaking) and augers. But unlike many independent Avondale plumbers we can do a lot more.
Sewer Camera Inspections Having clogged drains or toilet backups over and over again? Or evidence of a sewage leak in your yard? Our video camera pipe inspections let us look all along the length of the line to identify any loose joints, breakages, roots, and other blockages. You can have a look at yourself, and if you request we can make a DVD copy for you.
Hydro Jetting Grease and grime as well as fine tree roots and other obstructions sometimes can't be completely removed by cabling and augers. What's left behind is a head-start on the next blockage or slow-running drain problem. Hydro jetting creates a powerful blast of water that can even cut through tree roots in many cases. It's the latest tech for sewer and drains cleaning, and it's absolutely thorough.
Sewer Lines When damaged or beyond their useful lifetimes, a sewer pipe repair or replacement requires some digging. And maybe breaking through walkways or driveways. Spot repairs are often the most economical overall, but if there are multiple problems or the sewer line is in poor condition overall it's time for a replacement. That used to mean digging a long trench from the building all the way to the street with all the cost, time, and disruption that entails. But in most cases, we can provide trenchless sewer services that avoid all that.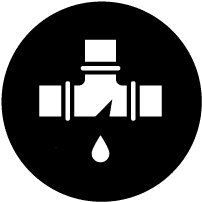 LEAKS
When plumbing is mentioned perhaps you first think of a leaky faucet. That's usually a quick fix and no problem for us, even if the faucet needs to be replaced. But suspecting you have a water leak somewhere and not being able to track it down is another story.
Electronic Leak Detection We have the latest electronic instruments. They not only determine if you indeed have a leak somewhere (even a tiny one), they also let us pinpoint the location. So there's no making holes in your walls or floors without first knowing it's the right spot.
Leaking Pipes Leaks are most often at fixtures and their hook-ups. We're ready for them as well as for leaks in the plumbing itself. Replacing a short section of pipe is often the lowest-cost solution, but where appropriate we can re-pipe older homes and businesses.
Slab Leaks If the problem is underneath a concrete floor slab (the most common foundation in the Avondale area) it's especially important to confidently know the location in order to choose the most cost-effective slab leak repair method. Options may include a spot repair (hacking through the concrete), re-routing new pipes to bypass the problem area, or pipe lining (installing an inner lining to seal the leak).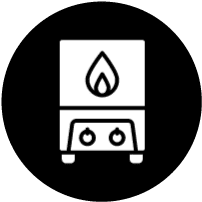 WATER HEATER SERVICES
Our expert troubleshooters make water heater repairs quick and economical. No matter if it's a simple electric relay or a complex gas ignition issue. We also offer professional water heater installation services, and strive for same-day replacements. We'll take care of Avondale permits and make sure the heater, connections, and all related plumbing are up to code requirements.
We're Avondale's experts on tankless water heaters. This compact technology gets rid of the big tank and its associated heat loss. You can get near-instantaneous hot water, and never run out! All while reducing your utility bills. We would be happy to discuss this great option with you whether for new construction, as a replacement, or as a remodeling addition.
ASAP Plumbing & AC
Fully licensed and insured, we've been providing residential and commercial plumbing services to the Avondale area for over 15 years. We're known for our personalized services and full attention to all the details, and offer same-day scheduling and extended hours for your convenience.
There are no added charges for evenings or weekends, and there's no service call charge with a repair or installation. Our well-trained plumbers take the time to explain all your cost-effective options. And we guarantee their workmanship and your satisfaction.